Bike Trails in CT Worth Checking Out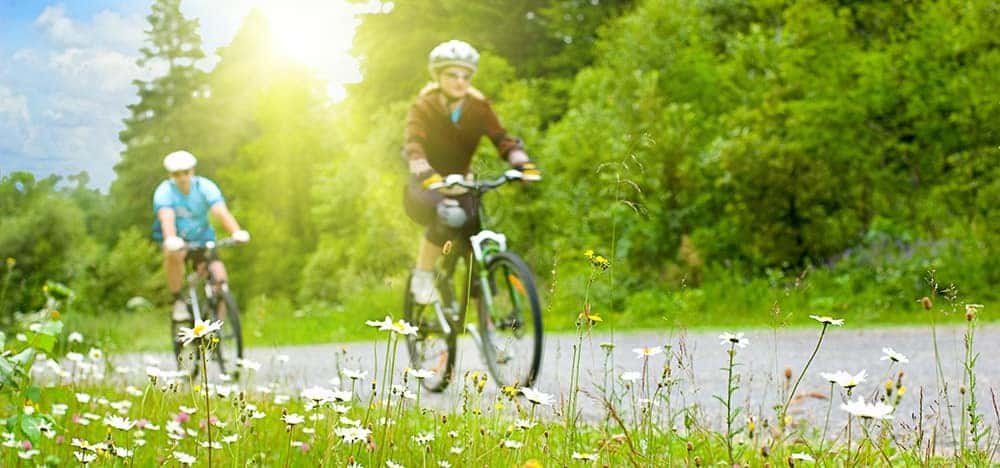 Whether you're a pro or a newbie, hitting the bike trail is one of the most popular things to do when the weather warms up. Thankfully, there is an abundance of exciting bike trails in Connecticut. If you're looking for fun things to do while getting exercise, and you have your bike and gear ready to go, Westbrook Toyota has a list of our favorite bike trails worth checking out. See if your favorite made our list.
Farmington River Trail
This 26-mile loop bike trail divides off the Farmington Canal Heritage Trail. It's tucked along the Farmington River National Scenic River, which is a trail that meanders past 19th-century mills, waterfalls, dams, rapids, ponds, forests, and prairies. Enjoy the beautiful landscape that offers one of the best traffic-tree bike trails in New England.
Trumbull Rail Trail
Trumbull Rail Trail is nine miles of asphalt and crushed stone on the most scenic section of the Pequonnock Greenway. This incredible bike trail starts at Seaside Park in Bridgeport and continues to Newton. Enjoy riding through shaded woods while passing through a string of parks and parkways. This is also the perfect trail for runners and walkers.
Back Road Bike Trails
If you want back road biking with a view, Connecticut has miles of back roads that are perfect for bike rides that wind through the coastline and farmland as you ride through various charming small towns.
Pomfret Loop
Litchfield Hills Rides
Family-Friendly Bike Trails
If you're looking for longer bike rides perfect for you and your family, try one of these family-friendly bike trails in CT:
Indian Ledge Park (Mountain Bike & BMX)
Derby Greenway
Explore The Best Connecticut Has to Offer With Westbrook Toyota
Whether you're a pro on a bike or a newbie, or a family looking for fun activities together, there are plenty of bike trails in CT that are excellent. Westbrook Toyota has all of the exciting things to do in the area, from bike trails to the best places to shop, the top Connecticut beaches, waterfront restaurants, and the best things to do in Westbrook, we're proud to be your guide to Westbrook.